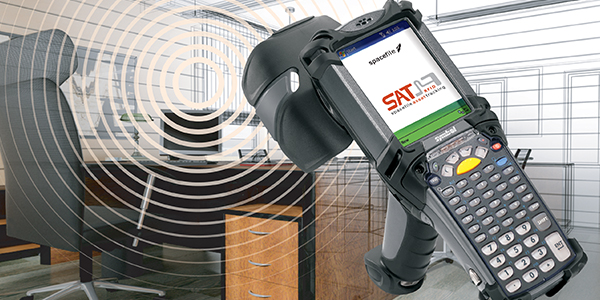 The full suite of SAT (Spacefile Asset Tracking) products and services provides automation for life cycle management, facilitates compliance, and reduces the cost of doing business.

No matter how small or large a project, our skilled team of professionals will free up your staff's time by handling everything without disturbing ongoing work and completing it on time and on budget.

The SAT solution provides a logical framework for structured asset management policies and procedures. The software enhances compliance with government and industry regulations, and streamlines record retention schedules. SAT blends the use of RFID, bar codes and color-coding for optimized records management, delivering a rapid return-on-investment!

SAT can be installed on your server or hosted in our state-of-the-art data center. RFID technology automates asset management processes, enabling asset tracking without staff having to use a computer interface, providing truly "passive" records management. The software is customized around each client's terminology and workflow requirements, making the system easy to learn and easy to use.
Identify Each Record At The Point Of Origination:
• Type or import data for each asset and index with unique RFID tag, color coding, and descriptive text.
• Link record origination to underlying records classification and retention scheduling system.
Use Radio Frequency Identification (RFID) Technology To Manage Records:
• Index records and documents with radio frequency tags to inventory record locations and find needed files
• Automate management of record life cycles from origination to archiving to destruction or "permanent record" status
• Strategically deploy RFID antennas throughout a facility to know where all records are located at all times
Minimal I.T. Resources:
• Requires no third-party operating system, database, or software licenses,and operates in Windows or Linux environments.
• Costs are minimized, as the need for I.T. resources and computing/networking is minimized.
• Workstation computers only require a browser application and Java - there's no software to buy, install, or maintain.
• Production, back-up, and test servers provide redundancy, uninterrupted performance and seamless upgrades.
• Nightly backups to external media for disaster recovery.
• Uncompromising standards for security, power supply, and environmental control with data center security and support maintained 24/7/365.
Features:
• Scalable Enterprise-class architecture with unlimited users and unlimited physical locations
• Tracks unlimited number of item types
• Customized Data Entry and Data Import Screens
• Import data from host applications in data native format
• Electronic forms for any transaction/event
• Supports capture of electronic forms and storage in database
• Prints bar code and RFID labels & tags to track items (prints labels/tags) and/or to track people (prints name badges)
• Tracks item locations (Shelves, Drawers, Boxes, Offices)
• Provides a web browser page "request/transfer" screen for users to access and transfer items.
• Complete Audit Trails to ensure item accountability
• Tracks who/when/why item activity
• Unlimited workflow queues for managing "due for action" items and tasks.
• Zones & Readers keep database refreshed
• Automates maintenance schedule compliance and retention schedules
• Access control mechanisms to initiate sound and light alarms
• Supports cameras and video to document people and items passing a RFID read zone.
• Supports scanning documents and attaching to database records.
• Enables import of documents (PDF's, pictures, videos, etc.) for complete electronic records.
• Powerful native reporting system to generate unlimited reports.