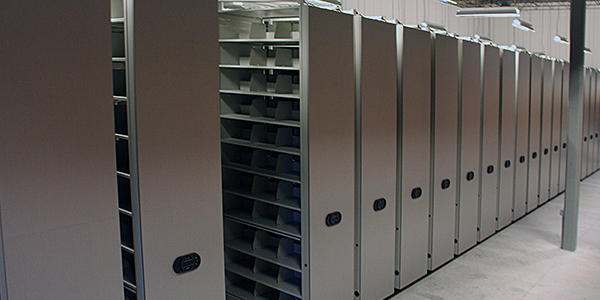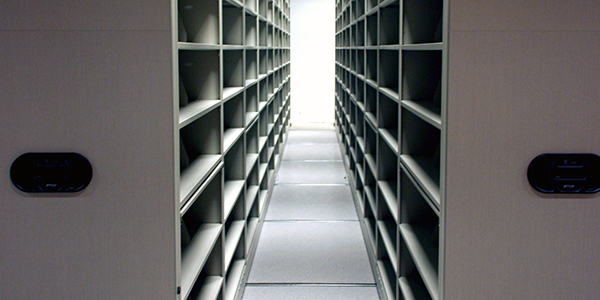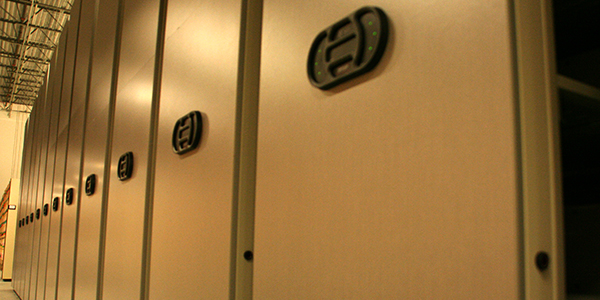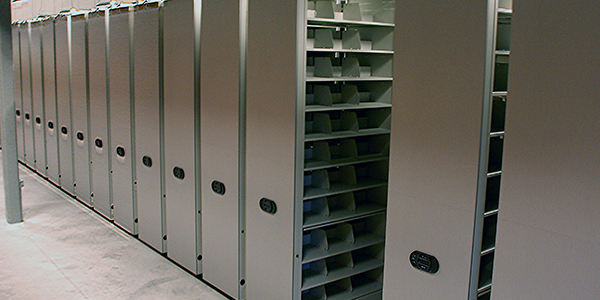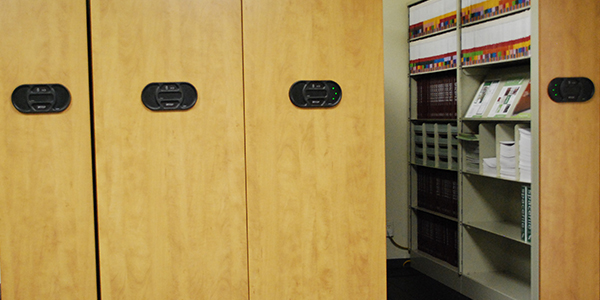 A state of the art logic system for high-density mobile storage. Spacefile's electrical storage system has multiple security features, adjustable program settings and safety standards that exceed industry requirements. Spacefile's SDSe provides reliable, worry-free operation for a lifetime of use. Spacefile's SDSe system is a conglomeration of the highest quality components on the market, setting a new industry benchmark for strength and durability.

Like all the SDS family of products, the SDSe is modular in nature, adaptable for a variety of storage uses and comes in lengths of up to 60' long. The SDSe logic system allows for control and system security access through user operation or PC control.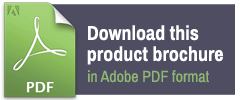 Features & Benefits:
Track and Decking Options
Spacefile SDS systems are available on any of our diverse track and decking options. Our innovative track choices provide a solution for installation on virtually any surface and for every application.
Shelving Options
The Electrical Assist SDSe system is designed to accommodate any of Spacefile's shelving products as well as integration with third party shelving. SDS Carriages are also available with heavy gauge steel carriage covers for open, large object storage
Expandable/Reconfigurable/Upgradeable
Spacefile's SDSe Electrical Assist system is flexible design allowing for complete modularity. Systems have the ability to be relocated, reconfigured or expanded to adapt to changing storage needs. The LOGICplusTM controller system allows for simple and convenient upgrades. Safety features can be added, or modified to adapt to changing system requirements. All carriage components are completely reusable. Spacefile's SDS carriages share common tracks and can be installed/relocated onto any of our 5 unique track and decking options without requiring any carriage modifications.
One Touch Aisle Control Operation
Simple to use control system allows a complete carriage movement cycle with a single touch of a button. When carriages are in motion, activation of any of the safety features will stop all movement.
Fully Automated State-of-the-Art Programmable Electronic Controls
The LOGICplusTM controller system is designed to meet every customer's exact requirements with programmable features can be added or modified to adapt to customer's changing needs. PC integration allows for modifications to performance characteristics or system adjustments. Several alterations can be made by using the RFID transponder keys and do not require the use of a PC.
Sequential Carriage Movement
Eliminates carriage-to-carriage contact and vibration and ensures protection of stored material during movement as well as reducing system start-up amperage draw.
Static Mobile
Allows moveable carriage to be temporarily converted into stationary carriages creating two mobile systems that work independently. This feature can help improve retrieval, workflow patterns and predetermined aisle widths, as well as helping achieve A.D.A. compliance by converting two smaller aisles into a single larger ADA complaint aisle.
Stationary Bases/Fixed Carriages
Stationary shelving units adjacent to the mobile system are mounted on stationary platforms of the same construction and height as carriages for a complete homogenous system. Stationary bases are attached to the track and completely anti-tip. Included as a standard feature to all SDS systems unless otherwise stated.
Finished Appearance with Durable Powder Coat Finish
Spacefile SDS carriages are fully finished with no visible holes or fasteners. All metal components are finished with powder coat paint, providing a durable hard surface with superior performance qualities. Powder coating provides excellent abrasion, impact, corrosion, stain, and chemical resistance, exceeding stringent scruff, scratch and chip requirements of the American Library Association. Powder coat paint also emits negligible VOC's (volatile organic compounds) for a cleaner, healthier indoor environment. Paint is available in any of our 12 standard colors, our eco-friendly paint option and custom
Anti-Tip Safety Protection:
Anti-tip is a standard feature on all Spacefile systems. All Spacefile carriages, both mobile and stationary, have an integrated and adjustable anti-tipping mechanism. Anti-tip mechanisms are located at every track interval and comply with all seismic requirements.
UL & cUL Listed, CE Marked
Meets national electrical codes, standards and safety codes.
Fire Resistant – CAL 133 Compliant
Spacefile Electrical Assist SDSe Carriages meet CALL 133 standards for combustion performance and is suitable for compliance with the Boston Fire Code.
Environmentally Friendly
Spacefile is committed to designing and manufacturing long lasting, environmentally friendly products. Carriages are constructed primarily from sheet metal with an average of 40% recycled content. Spacefile products can contribute to LEED accreditation. Please refer to our environmental section for more information.
Standard Safety Features:
Photosweeps
Photosweeps at floor level emit an infrared beam that scans the entire length of the carriage for obstructions. When an object or persons foot/leg breaks the beam, the carriage will stop and back away from the object.
Emergency Stop Button at Each Keypad
Emergency stop buttons are located on every keypad and are easy to identify, understand and use. Pressing any STOP button carriage movement will seize movement of all moving carriages.
MCMS (Motor Current Monitoring System)
The controller monitors the amount of current it takes to continue a move cycle. A current spike occurs when someone puts their foot up against the carriage, creating increased resistance. If the current has a spike (increase in current) the carriage will stop movement and back up.
MRMS (Motor Record Monitoring System)
The controller records previous carriage movements and compare the recorded values with a new movement. In case of too high currents is the mobile carriage is stopped and revered.
Motor Time Limit
If we determine that a complete move cycle of a carriage takes a specific amount of time, we have the option to shut the carriage movement off by limiting the time the motor is running.
Optional Safety Features
Aisle-Entry Safety Sensors
Entrances of aisles are capable of being equipped with infrared aisle entry sensors. The sensors transmit a photoelectric beam across the open aisle and breaking the beam automatically stops or prevents carriage movement.
Entrance Detection Sensor (EDS Motion and Heat Detector)
State-of –the-art system utilizes thermal radiation sensors and motion detectors to detect heat and movement in the entire space of an open and closing aisle. The system prevents carriage movement when a person is detected in an open or closing aisle. Advanced control system is capable of detecting the difference between a person and a moving mobile carriage so that the system remains active as an aisle is closing. EDS prevents carriage movement from initiating when aisle is occupied and allows for a truly passive system that requires no operator action to operate. System has the ability to automatically reset when it detects that the person has exited the aisle.
PIR (Motion Presence Detector)
System utilizes motion sensors to detect movement in the entire space of an open aisle. The system prevents movement when a person is detected in an open aisle. System automatically resets when it detects that the person has exited the aisle.
Programmable Audible Safety Signal
System is capable of being equipped with a programmable horn that warns users before carriage movement. The warning horn output is activated immediately when a move key is pressed and after a 5 second interval the carriage movement starts. The warning horn output is deactivated at the end of carriage movement.
Mechanical Safety Sweep
System is capable of being equipped with sensors that automatically stop carriage movement upon contact with an obstacle. Sensors are mounted at the base of mobile carriages and activated with as little as 1 kg of pressure.
Available Options
Complete Line of Accessories
Spacefile manufactures a complete line of accessories compatible with our high-density storage systems. All of our products have the flexibility of adding or reconfiguring accessories to adapt to changing storage needs. Custom accessories are also available.
Multiple End Panel Options
Spacefile has a diverse selection of end panels that can be integrated onto any of our systems. High pressure wood laminates are available in any of our 23 standard finishes as well as custom. Other options include our unique metal pegboards, dry erase boards, glass, acrylic and custom.
Custom Dimensions
Spacefile manufactures our entire product line, allowing us to customize products to suit practically any application with virtually no maximum width or length. Custom product dimensions are available for carriages, shelving and accessories.
Flexible Wheel/Rail Positioning
Spacefile is capable of customizing carriage wheel/rail positioning to optimally distribute weight. We are able to supply customized system for unique applications including raised floors where exact rail positioning and weight distribution is essential.
Automatic Aisle Closing
Feature can be enabled to automatically close aisles and parks the system in a compacted configuration to protect stored confidential materials. Several automatic time-out options are available.
Main-Aisle Priority Access
Programmable feature automatically opens the system to one specific aisle based on the user's activity patterns and preference to improve productivity.
Automatic Aisle Spacing
Feature can be enabled to automatically position the moveable carriages in a system to create equal spacing between all ranges to improve ventilation to the contents.
Auto-Cycle
Can be enabled to improve air circulation for stored media by opening and closing each of a system's aisles at preset time intervals. Helps prevent mold and mildew growth in damp, humid environments.
Building Interface (Fire, Sprinkler, and Lighting)
System has the ability to be integrated with building interface to perform specific actions including auto-park and auto-spacing.
Remote Control Capabilities
System can be integrated with networks to allow for full system control from a remote location via PC.
Overhead Aisle Lighting
Overhead aisle lights are capable of being attached to the top of the shelving over aisles and automatically activated when their specific aisle is opened.
UPS (Universal Power Supply)
System can be provided with an automatic battery backup system capable of powering the entire powered system module in the event of a power failure. The UPS system provides full system functionality while operating on battery power including full speed carriage movement, multiple carriage movement, and all normal safety functionality. The UPS system has the ability to automatically charge itself when the power is restored.
Anti-Bacterial Powder Coat
Anti-microbial powder coat option is available to protect against the growth and migration of micro-organisms including bacteria and fungi. Anti-microbial powder coat is ideal for hospitals, food service and packaging areas, pharmaceutical labs, childcare facilities and anywhere else requiring highly sterile surfaces. Sterilcoat AM Antimicrobial powder coat is formulated to significantly reduce microbial activity and provide protection over an extended period of time and frequent washings. Anti-microbial power coat is available in our full range of powder paint colors as well as custom.
Custom Engineered Carriages and Galvanized Steel Carriages
Custom engineered carriages are available for unique applications requiring specific criteria. Rustproof galvanized steel carriages and components are available for wet/damp environments.