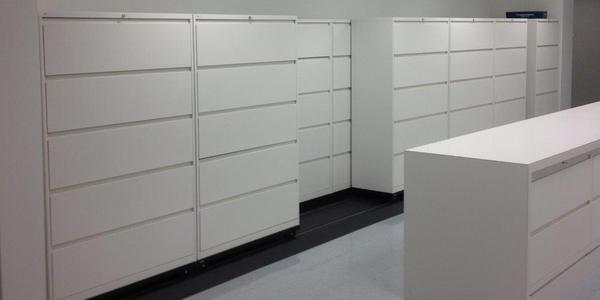 Spacefile's Lateral MSA is a rotated version of our standard Mini Storage Aisle system. A stationary row of shelving is typically located at the rear preceded by laterally moving rows. This system comes complete with our unique demountable floating floor, allowing for installation on top of virtually any surface without being attached to the floor in any way. Heavy gauge steel welded carriages deliver maximum strength, rigidity and durability.
Features & Benefits:
Anti-Drift Capability
The MSA is provided with our innovative demountable fully finished floating floor that has built in leveling bolts to ensure a precisely leveled system that will not drift. Carriage stops/brakes are also available to prevent carriage movement.
Stationary Bases/Fixed Carriages
Stationary shelving units adjacent to the mobile system are mounted on stationary platforms of the same construction and height as carriages for a complete homogenous system. Stationary bases are attached to the track and completely anti-tip. Included as a standard feature to all MSA systems unless otherwise stated.
Finished Appearance with Durable Powder Coat Finish
Spacefile MSA carriages are fully finished with no visible holes or fasteners. All metal components are finished with powder coat paint, providing a durable hard surface with superior performance qualities. Powder coating provides excellent abrasion, impact, corrosion, stain, and chemical resistance, exceeding stringent scruff, scratch and chip requirements of the American Library Association. Powder coat paint also emits negligible VOCs (volatile organic compounds) for a cleaner, healthier indoor environment. Paint is available in any of our 12 standard colors, our eco-friendly paint option and custom.
Anti-Tip Safety Protection
Anti-tip is a standard feature on all Spacefile systems. All Spacefile carriages, both mobile and stationary, have an integrated and adjustable anti-tipping mechanism. Anti-tip mechanisms are located at every track interval and comply with all seismic requirements.
Fire Resistant – CAL 133 Compliant
Spacefile MSA Carriages meet CAL 133 standards for combustion performance and is suitable for compliance with the Boston Fire Code
Environmental Considerations
Spacefile is committed to designing and manufacturing long lasting, environmentally friendly products. Carriages are constructed primarily from sheet metal with an average of 40% recycled content. Spacefile products can contribute to LEED accreditation. Please refer to our environmental section for more information.
Available Options
Complete Line of Accessories
We manufacture a complete line of accessories compatible with our high-density storage systems. All of our products have the flexibility of adding or reconfiguring accessories to adapt to changing storage needs. Custom accessories are also available.
Multiple End Panel Options
Spacefile has a diverse selection of end panels that can be integrated onto any of our systems. High pressure wood laminates are available in any of our 23 standard finishes as well as custom. Other options include our unique metal pegboards, dry erase boards, glass, acrylic and custom.
Foot Stops/Anti-Drift Mechanism
MSA carriages are available with carriage foot stops that prevent unwanted carriage movement when engaged. Foot stops are spring loaded for simple and easy disengagement.
Anti-Bacterial Powder Coat
Anti-microbial powder coat option is available to protect against the growth and migration of micro-organisms including bacteria and fungi. Anti-microbial powder coat is ideal for hospitals, food service and packaging areas, pharmaceutical labs, childcare facilities and anywhere else requiring highly sterile surfaces. Sterilcoat AM Antimicrobial powder coat is formulated to significantly reduce microbial activity and provide protection over an extended period of time and frequent washings. Anti-microbial power coat is available in our full range of powder paint colors as well as custom.
Custom Dimensions
Spacefile manufactures our entire product line, allowing us to customize products to suit practically any application with virtually no maximum width or length. Custom product dimensions are available for carriages, shelving and accessories.