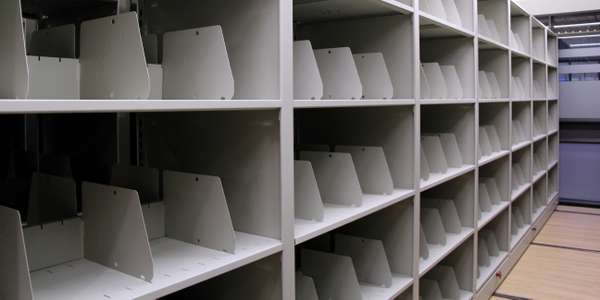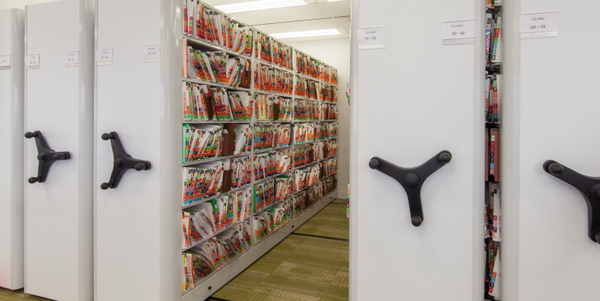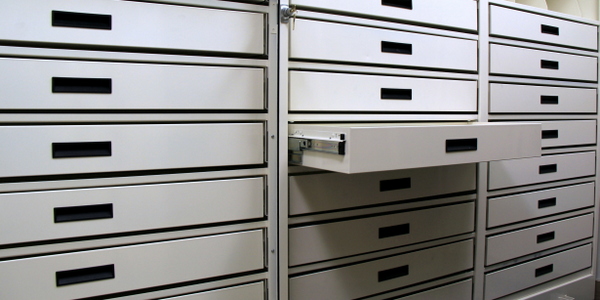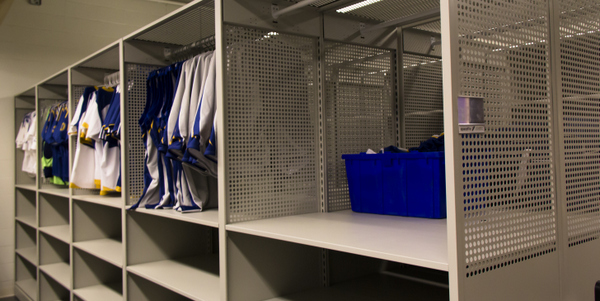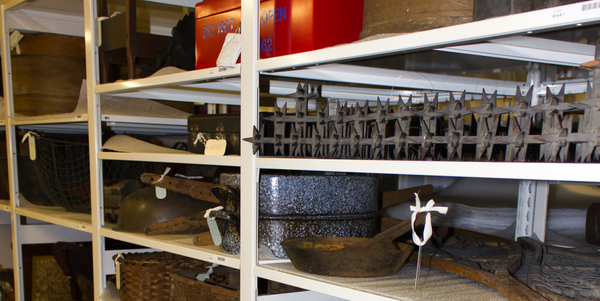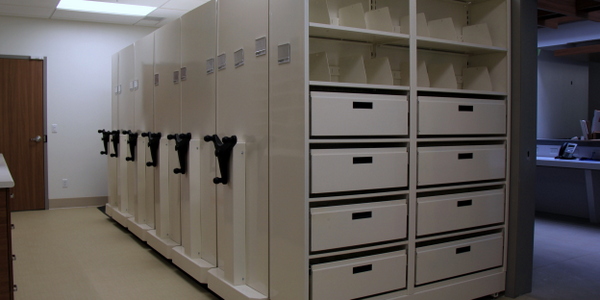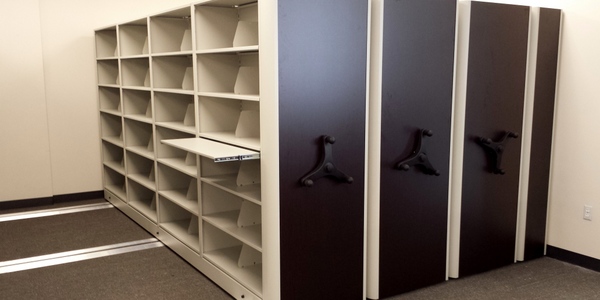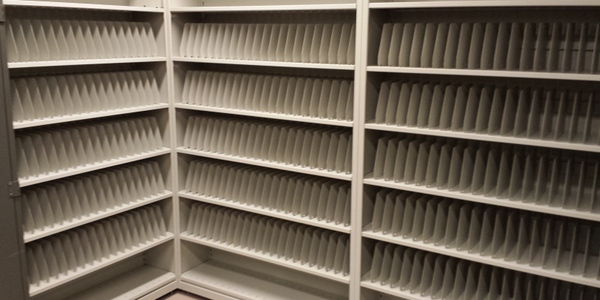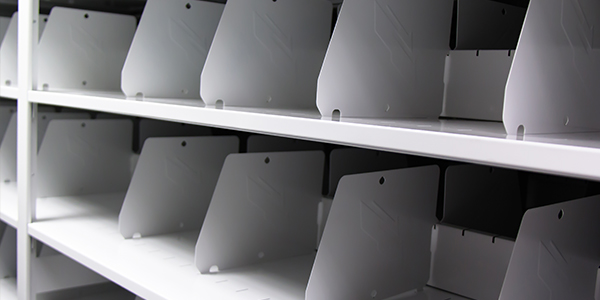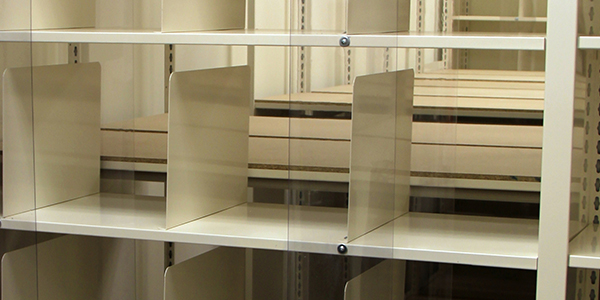 Spacefile's LT Adjustable Shelving
offers exceptional strength, durability and unrivaled versatility for an extensive range of applications. LT Shelving incorporates both "L" & "T" shaped tubular uprights with interlocking keyholes on the interior for a clean, attractive appearance with no visible holes on the exterior of the uprights/posts. Stationary configurations are available that may be integrated with any of Spacefile's mobile storage systems.
- Fully-adjustable design facilitates shelf and accessory positioning in 1-1/2" increments for maximum versatility
- Variety of versatile accessories including lockable options to meet virtually any security criteria
- Double-entry (dual-sided access) and back-to-back configurations
- Various upright designs including open, closed, perforated, case/library style (double-walled)
- Custom widths, depths, heights and shelf gauges
Modular Design - Reconfigure, Reuse & Relocate:
- Quick & simple installation
- Ease of reconfiguration, reuse and/or relocation
Shelf Options:Slotted Shelves With Adjustable Dividers:
Shelves are slotted on 2" centers with corresponding slotted back/center stops for addition of adjustable file dividers (various divider sizes and custom slot locations are available).
Unslotted & Heavy Duty Shelves:
Unslotted shelves are ideal for basic storage applications including archive boxes. Heavy duty shelves are engineered to withstand immense loading for large, heavy item storage (multiple shelf gauges are available).
Perforated Steel Shelves:
Steel perforated shelves promote airflow throughout shelf levels and are the ideal solution for retail, athletic and recreational facilities. Shelves have over 50% surface perforation, allowing water to penetrate shelf levels, thereby meeting stringent fire protection standards. Perforated shelves have a fully-finished exterior with smooth, burr-free edges and feature significantly higher strength and durability when compared to traditional wire mesh shelving.
Particle Board Shelves:
Particle board shelves can be integrated with LT Shelving as an economic alternative. Various thicknesses are available along with slotted options capable of accepting masonite board dividers.
Custom Shelves:
- Punched shelves for integration with full height bin dividers
- Wire mesh shelves of varying gauges and wire spacings for light to heavy duty applications
- MDF board, plywood, and stainless steel shelves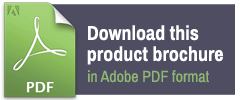 Expandable/Reconfigurable/Upgradeable
Spacefile shelving options have versatile designs to allow for maximum modularity. All shelving units have the ability to be relocated, reconfigured or expanded to adapt to changing storage needs. Units are completely modular and can be integrated onto any of our mobile carriages for future expansion.
Stationary Bases
Stationary bases are available in virtually any required height with built-in leveling domes.
Lock Configurations
Shelving in Lockable units are available to meet virtually any security criteria. Spacefile's locking systems are HIPAA and PIPPEDA compliant.
Spacefile locking accessories include but are not limited to:
· Tambour Doors
· Hinged Doors
· Flip Down Doors
· Pull Out Drawers
· Electrical keypad locks
· Padlocks
Complete Line of Accessories
Spacefile manufactures a complete line of accessories compatible with our high-density storage systems. All of our products have the flexibility of adding or reconfiguring accessories to adapt to changing storage needs. Custom accessories are also available.
Custom Dimensions
Spacefile manufactures our entire product line, allowing us to customize products to suit practically any application with virtually no maximum width or length. Custom product dimensions are available for carriages, shelving and accessories.
Multiple End Panel Options
Spacefile has a diverse selection of end panels that can be integrated onto any of our systems. High pressure wood laminates are available in any of our 23 standard finishes as well as custom. Other options include our unique metal pegboards, dry erase boards, glass, acrylic and custom.
Durable Powder Coat Finish
All Spacefile shelving is fully-finished with powder coat paint for a durable hard surface with superior performance qualities. Powder coating provides excellent abrasion, impact, corrosion, stain, and chemical resistance, exceeding stringent scruff, scratch and chip requirements of the American Library Association. Powder coat paint also emits negligible VOCs (volatile organic compounds) for a cleaner, healthier indoor environment. Paint is available in any of our 12 standard colors, our eco-friendly paint option and custom.
Fire Resistant – CAL 133 Compliant
Spacefile's metal shelving products meet CALL 133 standards for combustion performance and are suitable for compliance with the Boston Fire Code.
Environmental Considerations
Spacefile is committed to designing and manufacturing long lasting, environmentally friendly products. Carriages are constructed primarily from sheet metal with an average of 40% recycled content. Spacefile products can contribute to LEED accreditation. Please refer to our environmental section for more information.