High-density storage is essential in nearly every market. Organization for any business is more than having files or inventory in place-it takes effort. What does it take to be organized? You need maximum capacity and efficiency in the smallest allowable storage space. Efficiency and being organized translate into lower costs and higher profits.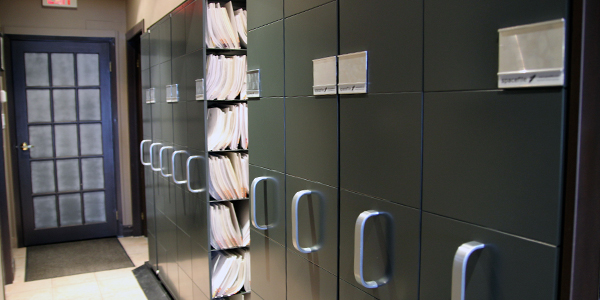 High-density products help you stay organized
In addition to storing items efficiently, it is imperative that you are able to access your stored items quickly and easily. You also need to be able to adapt and/or reconfigure your storage to the changing needs of your business (such as expansion).
Spacefile's storage solutions are able to be reconfigured-whether adding more storage space or just changing the layout out of a room. High-density storage is flexible.
Access is quick and easy! Staff won't be squeezing through aisles or making tight turns to find what they are looking for.

Additional Benefits
High-density storage makes the best possible use of your space on a day to day basis.
Ease of access: You'll save time! Efficient storage is one thing but if your business is using storage as a daily part of business operations, high-density offers the quick and easy access you need.
Increased free space: This storage offers up to 50% more space than 'traditional' storage with an innovative design that eliminates static aisles.
High-Density storage can look good: Typically, the words 'storage' and 'aesthetically pleasing' don't go together. Spacefile offers a wide range of accessories and finishes that blend seamlessly into most environments.
Contact Spacefile International today to learn how you and your business can better organize your space with storage solutions.